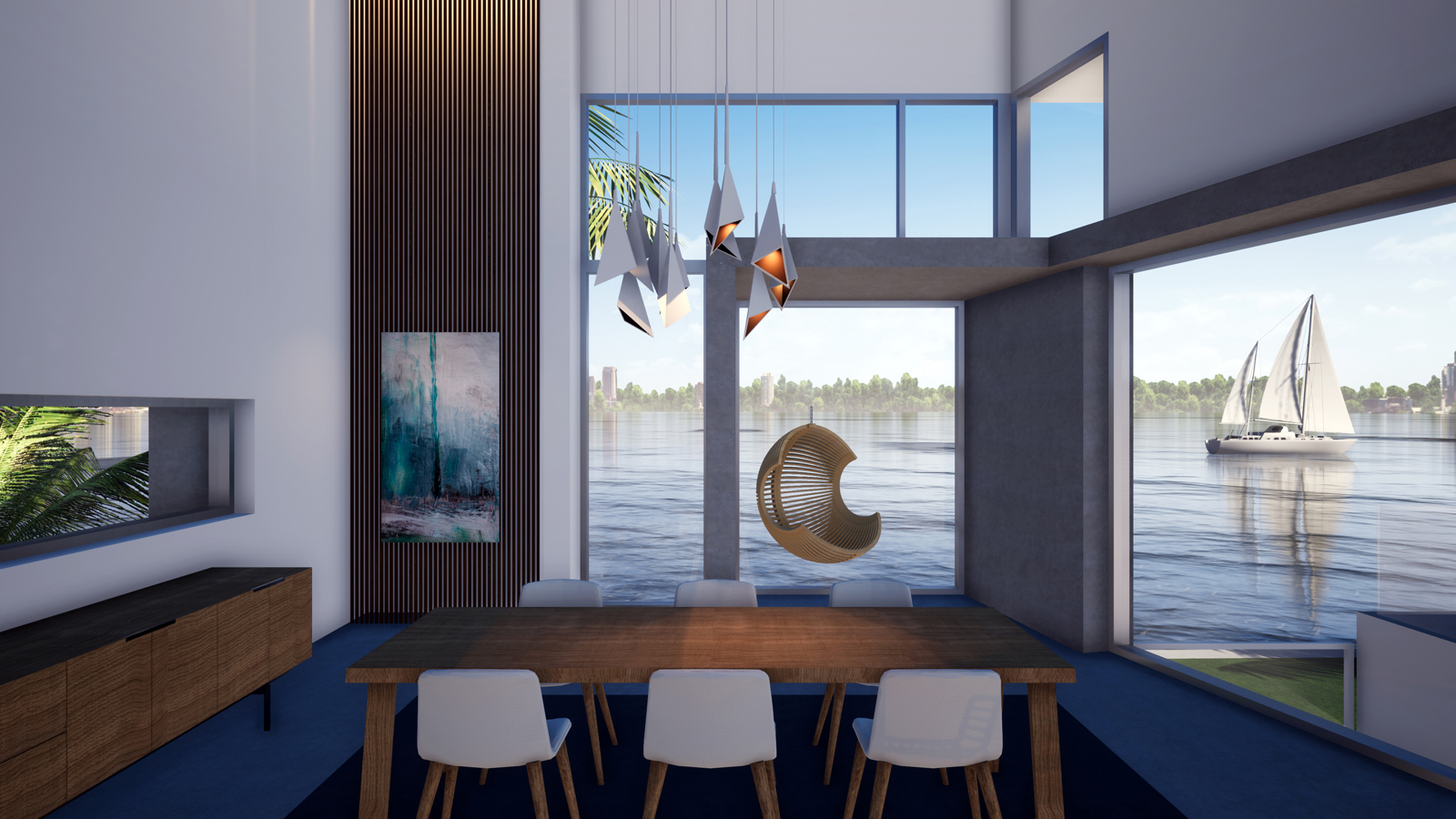 PALIMPSEST HOUSE
Similarly to ancient parchments from which the written substance was erased in order to be reused for new script, this existing house was "scraped clean and ready to be used again". Like a Palimpsest, the existing structure was carefully stripped of the architectural and programmatic elements that were no longer relevant for the new Owners' daily usage of the house. The existing architectural elements were meticulously analyzed to be edited, reconfigured, eliminated, or drawn upon to generate a carefully constructed assemblage in symbiosis with the new programatic elements.
The new adaptive design takes cues from the existing exposed cast-in-place shadow box that accentuates the expansive water views from the kitchen area. The dynamic equilibrium of the rectilinear shadow box composition and its expanse of glass was analyzed and drawn upon to generate the aesthetic and materialistic integration of the new master bedroom wing. Similarly, raw exposed concrete was used on the exterior facade of the guest bedroom to frame and define views of the surrounding tropical landscape. The application and repetition of such elements creates an echoing effect that heightens the cohesiveness of the building composition. On a smaller scale, exposed concrete elements such as dividing partitions and countertops accentuate the interior spaces and further increase the connectivity between interior and exterior spaces.
After undergoing several renovations from previous owners, the compartmentalized floor plan was no longer suitable for the family oriented lifestyle of the new owners. With the programmatic need for physical as well as visual connection to watch over their children and grandchildren, the floor plan was reconfigured and existing walls were eliminated to enhance the transparency of the living room, dining room, kitchen, and outdoor pool deck. In a similar manner, the loft area that contained several semi-enclosed spaces was unified into a new entertainment center and family gathering space.
Location:
Lido Key | Sarasota, Florida
Status:
Completion, 2019