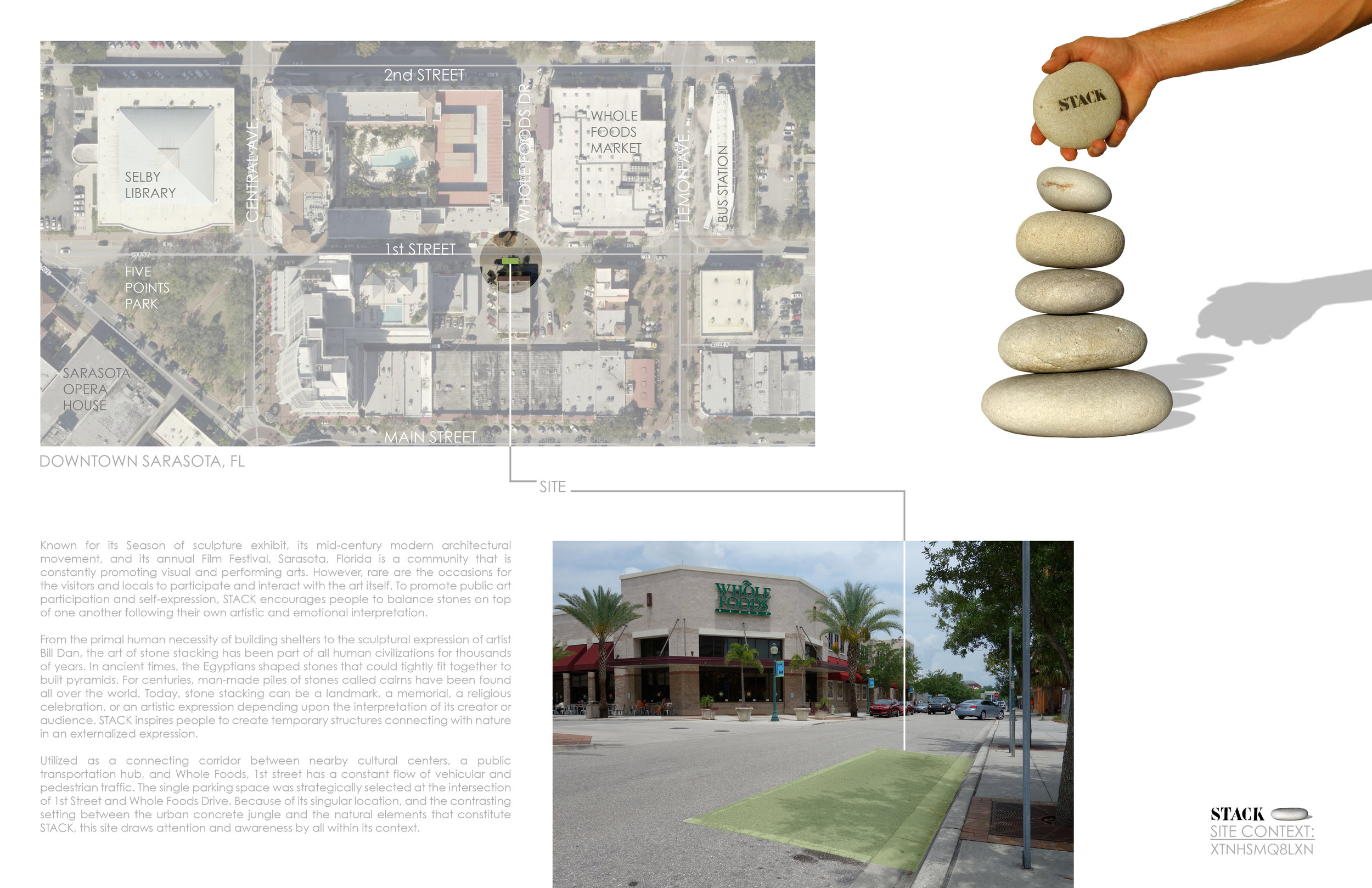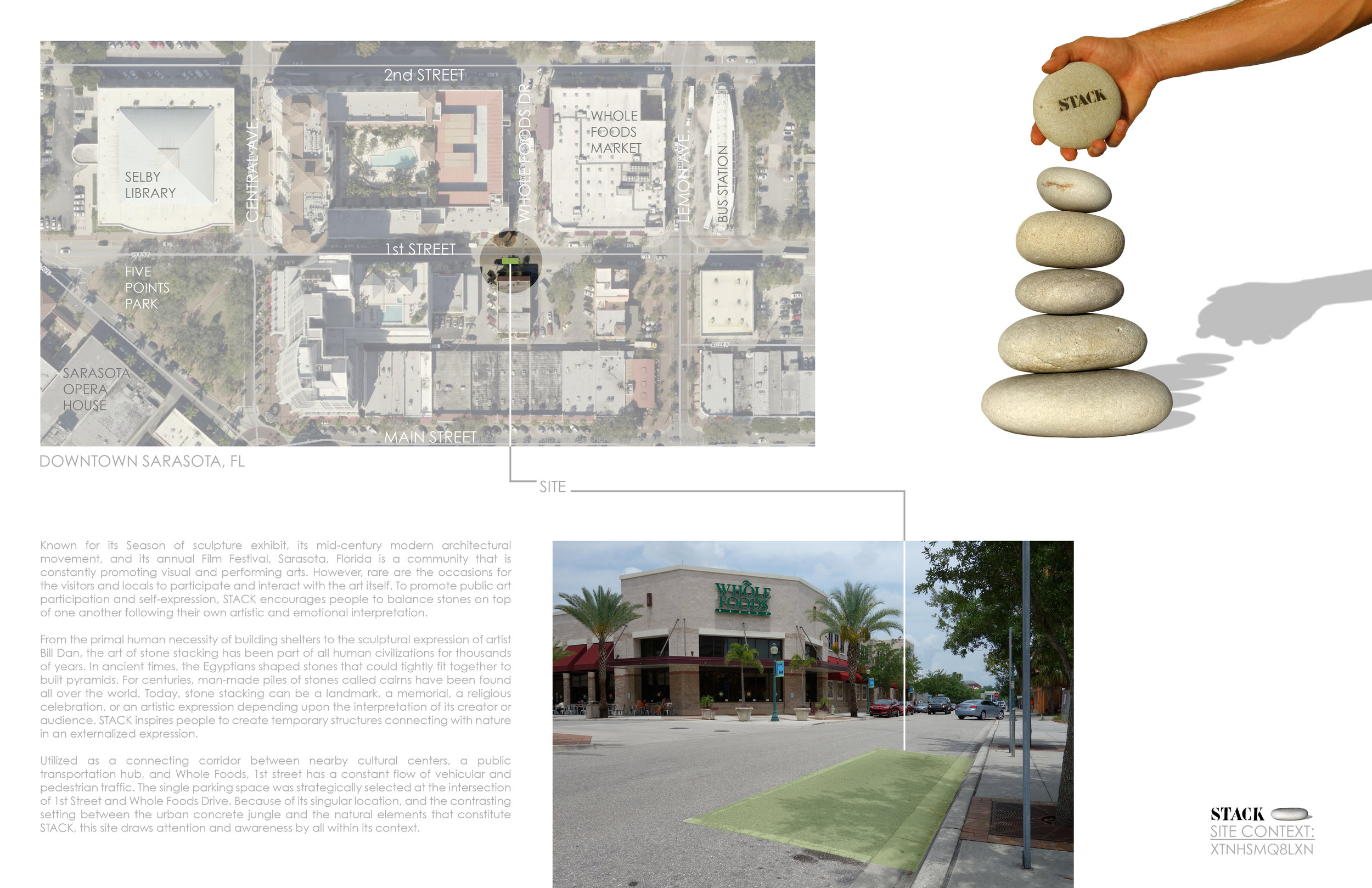 STACK
Known for its Season of sculpture exhibit, its mid-century modern architectural movement, and its annual Film Festival, Sarasota, Florida is a community that is constantly promoting visual and performing arts. However, rare are the occasions for the visitors and locals to participate and interact with the art itself. To promote public art participation and self-expression, STACK encourages people to balance stones on top of one another following their own artistic and emotional interpretation.
From the primal human necessity of building shelters to the sculptural expression of artist Bill Dan, the art of stone stacking has been part of all human civilizations for thousands of years. In ancient times, the Egyptians shaped stones that could tightly fit together to built pyramids. For centuries, man-made piles of stones called cairns have been found all over the world. Today, stone stacking can be a landmark, a memorial, a religious celebration, or an artistic expression depending upon the interpretation of its creator or audience. STACK inspires people to create temporary structures connecting with nature in an externalized expression.
Utilized as a connecting corridor between nearby cultural centers, a public transportation hub, and Whole Foods, 1st street has a constant flow of vehicular and pedestrian traffic. The single parking space was strategically selected at the intersection of 1st Street and Whole Foods drive. Because of its singular location, and the contrasting setting between the urban concrete jungle and the natural elements that constitute STACK, this site draws attention and awareness by all.
Part natural and part manmade, stone stacking is the symbiotic collaboration of humans with nature. STACK embodies this concept through the use of materials to facilitate its construction.
As balancing stones carries with it a practice of patience to create balance, it is important to establish a transition in the mind of the participants entering STACK. Identified with beach settings, zen gardens, or children's playground, sand is utilized as a soft base to evoke a relaxing and stress free feeling. Encouraged by its soft nature and soothing texture, people can choose to walk barefoot, children can play with it, and participants can use it as a flexible base for the stone stacks.
As stone stacking is also associated with versatile creativity and interpretation, wood is utilized for its similar characteristics and flexibility of fabrication. 2x6 recycled southern yellow pine lumber is employed in this manner. First, since not everyone is physically able to easily step or walk on sand, a wooden platform adjacent to the sidewalk provides a natural surface for ADA access. In addition, fabricated wood boxes 6 inches tall with horizontal modules of 18 inches can be stacked for multiple purposes. Ranging from benches to pedestals for the stacks, the arrangement of the boxes also provides a semi-opaque three feet tall enclosure to protect people from nearby traffic. The voids created by the random stacking of the boxes provide niches for the display of the stones.
Following the module of the wood stacks, welded wire mesh gabions are located at strategic points throughout the installation. As opposed to the free-form stacks of stones generated by the artistic approach of the participants, the gabion structures are containers of stones that can be stacked as architectural elements to define the space.
To soften the edge but also to increase the verticality of the 3' tall enclosure separating STACK and the adjacent street, Equisetum grass (horsetail) is used in conjunction with the gabions. In a similar manner, on the opposite sidewalk, two existing oak trees further define the space and provide dappled light and shade throughout the day.
Location:
Downtown | Sarasota, Florida
Awards:
2014 | AIA Florida/Caribbean Parking Day Competition, 1st Place